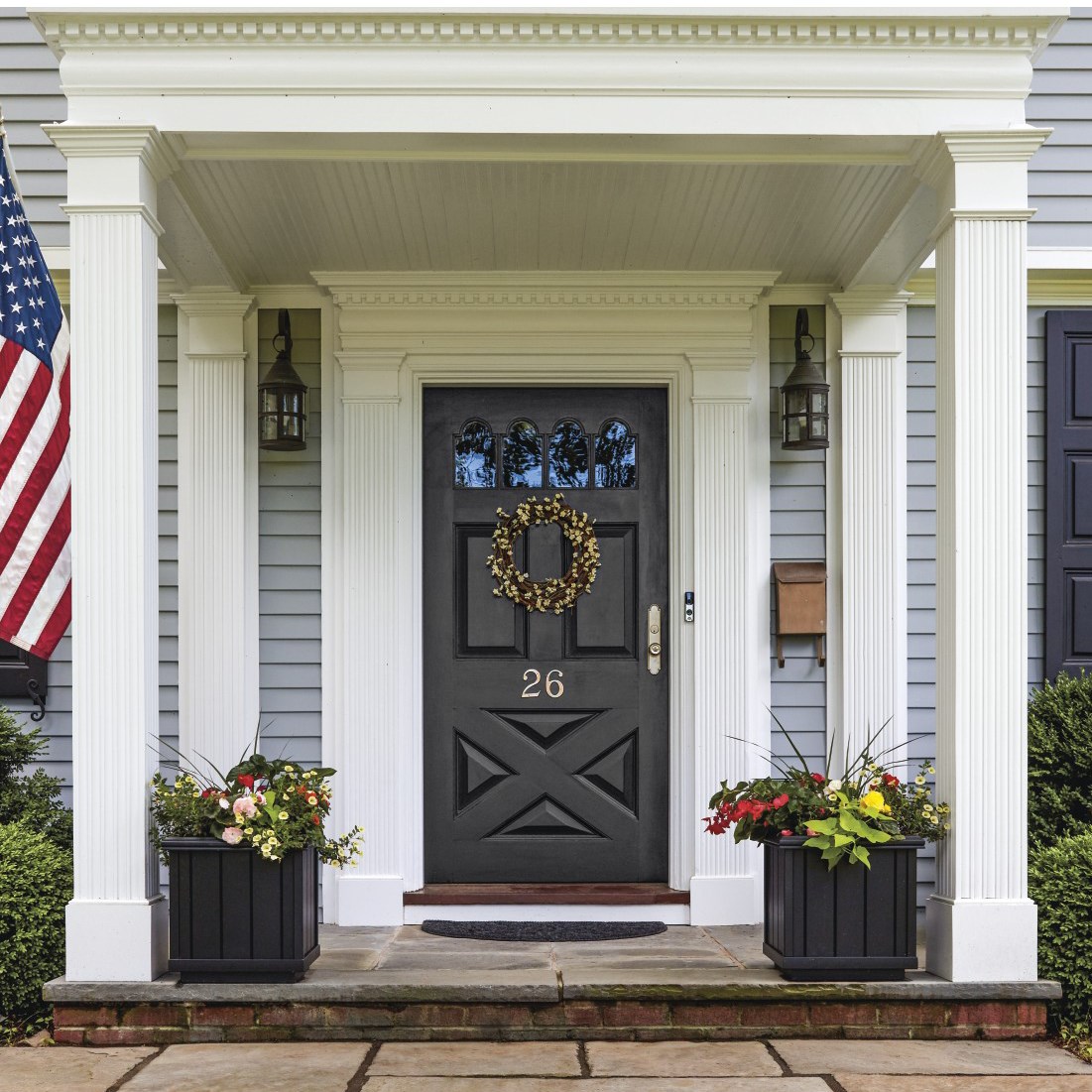 Create The Perfect Home Entry With Flower Boxes and More
---
Spruce up your home with flower boxes, number signs and color 
Creating a good first impression is always important, but it isn't always easy. Luckily it doesn't take a ton of effort to design a home entryway that is memorable. All you need is a flower box, pop of color and a little bit of a green thumb.
One of the most important parts of the exterior of your home is the entryway. This is where guests, friends, and family pass through every time they visit. You want to make sure this space is well manicured and inviting. Your entryway is also a highly visible space for passersby who will make judgments about you and your home subconsciously by what they see outside.
Designing an inviting entryway doesn't have to cost a lot of money or take a lot of time. Simplicity, in this case, is beneficial. If you want to give your home entry a much needed makeover, focus on a few of the areas highlighted below. You can do one, or all!
Show Off Your Number
Many homes feature the house number either very close to, or directly at the entryway. Your house number is something very easy to ignore. How often has the number on your home even entered your mind? 
For most homeowners the house number that is currently on the home is the one that was there when they moved in. This detail, though small, is a great place to start updates. Adding a new number sign will give your home an updated look in a place that everyone is looking. You can also consider moving your house number from where it currently is – you are not stuck with what you inherited from the previous owners.
Add Some Life
One way to really add some life to your entry is to add some actual life! Adding a planter or flower box is a great way to introduce some green to your home – and who isn't impressed by a little gardening! 
Depending on the size of your entryway you can choose to add flower boxes to the nearby windows or planters placed on the ground flanking the door. If you have a good amount of room, one planter on either side of the door looks the best. You want to create symmetry wherever possible.
Using your green thumb you can plant whatever seasonal plants or grasses you feel looks best in front of your home. If you don't have a green thumb using fake plants is also great! The fun of a window box or planter is that you can easily update the look of your home season to season.
Embrace Color
One of the best ways to really give your home a fresh look is to paint your front door. Now this doesn't mean painting your front door black or white – this means painting it red or teal or even pink! Select a color that is bright and contrasts nicely with your home's trim and siding.
If you are not ready for a bold door you can always select a color that is a little more muted like a pastel or subtle tone. This pop of color will add some life and cheer to the entry of your home. Plus a fresh coat of paint always makes things look newer and fresher!
Shine Some Light
Even more than looking inviting, home entries have to be safe for egress. You can add some additional safety and some additional style with the installation of a light fixture like a lantern.
Side-mount lanterns are the perfect choice for a home entryway. There are dozens of varieties and styles to choose from and they are a reliable source of light for people entering and exiting your home. This is especially important in the fall and winter when the sun sets much earlier. Lanterns are also extremely stylish and can really elevate your entry space.
Add Whimsical Touches
It's your home so why not show off a little bit of your personality! While you are crafting your perfect entry make sure you embrace the small details that can add so much fun. A great start is by adding a timeless and whimsical door knocker. These small touches, whether they be a leaf, crab or seashell, will bring out a little more of your personality to your guests.
Wrapping It Up
Creating a beautiful home entry is all about adding simple touches to an already tight space. It's important that the path to your door remains clear, but what you do with that extra space on either side can make a huge difference. So have fun and let your style guide your choices!