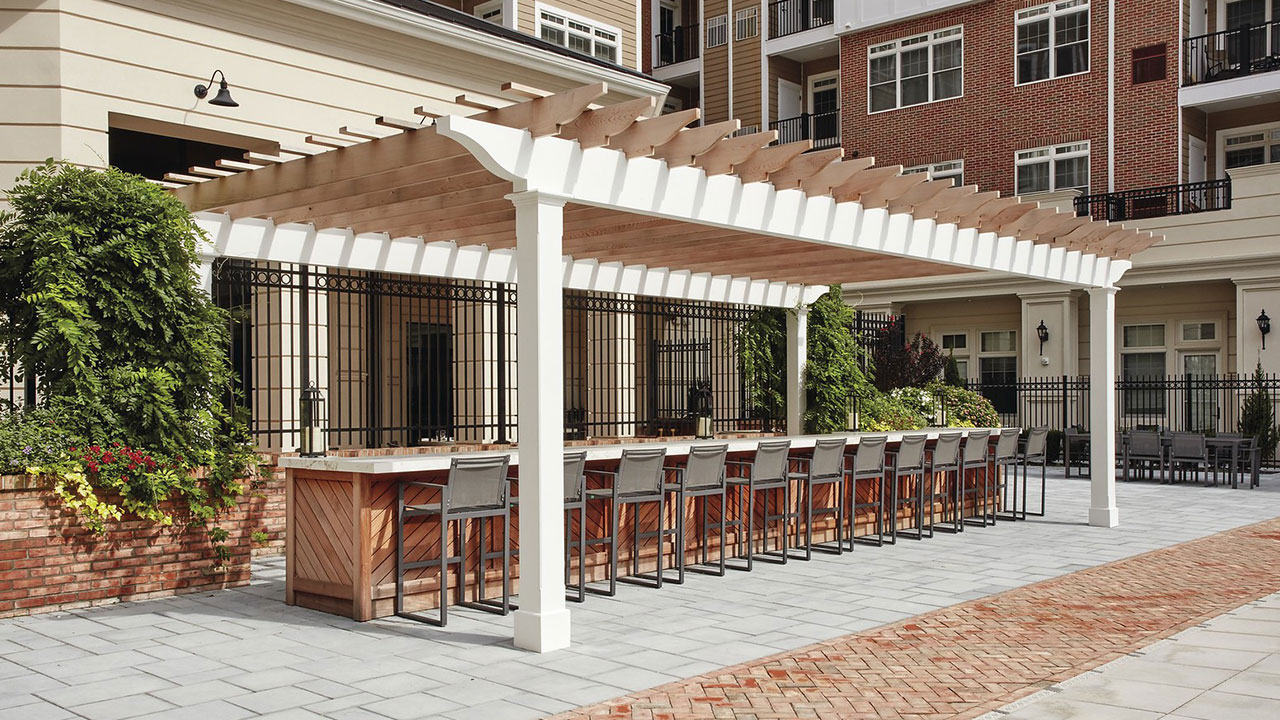 If You Build It, They Will Come: Improve Your Outdoor Dining Space with a Pergola
---
There's nothing like a global pandemic to bring the things that truly matter into sharp focus—be it in life or in business. Thanks to COVID-19, the importance of having an attractive, useable outdoor dining space at your restaurant or on your commercial property has been substantially amplified. If you're in the restaurant design business, you're likely familiar with the added benefits of an outdoor dining space—enhanced atmosphere, extra seating, increased revenue, and, if positioned correctly, free advertising to passersby. Likewise, in commercial settings, a thoughtfully designed outdoor dining space is an attractive amenity to office, retail, and luxury high-rise apartment tenants alike.  
But outside dining spaces also have their obvious challenges, with unappealing aesthetics and discouraging weather being top of the list. One of the fastest and most visually appealing ways to address both is with the addition of a pergola. Pergolas consist of beams, rafters, and posts and add function and desirable aesthetics to virtually any outdoor dining space. They can be either attached or freestanding—either of which will enhance your property's useable space and increase value.  
An Enticing Al Fresco Experience 
It's no secret that people love to eat outside— it's festive, casual, and lets people take in the world around them and a pergola greatly enhances that experience. With their distinctive design, pergolas welcome clientele and signal for them to sit and make themselves comfortable. In fact, the simple addition of a pergola can turn an unspectacular building, patio, courtyard, or rooftop into an inviting and memorable space.  
Aside from being aesthetically inviting, a strategically constructed pergola helps direct foot traffic, allowing for customers or clients to move comfortably, and for waitstaff to move efficiently. If needed, a short fence and/or arbor can further help direct flow while adding appealing definition to your outdoor space. Likewise, latticework can block or add dimension to unattractive walls, creating the ultimate outside veranda.  
Year-Round Beauty 
In the warmer seasons, pergolas offer shade and help reduce ambient heat from adjacent concrete surfaces. Unlike awnings, they also offer pleasantly diffused natural light—diners can be kept cooler and more comfortable, yet your outdoor space remains light and airy feeling. They also provide the framework for climbing greenery and hanging plants, further enhancing your outdoor space.  
When the weather is less than ideal, a pergola can assist in keeping your patio or rooftop open for business. The addition of a retractable pergola canopy or shade protects diners from intense sun and light rain, maximizing your outdoor investment. Likewise, combined with fencing or latticework, a pergola can significantly reduce the impact of wind.  
As the months turn colder, a pergola can even help retain heat generated by outdoor space heaters (provided you use them in accordance with the manufacturer). And in the winter season, they can be downright magical when outfitted with holiday lights and evergreens.  
Making the Most of Your Investment 
If you are considering upgrading your outdoor space with a pergola, consider this: quality goes a long way when it comes to enticing returning clientele. People care about aesthetics, whether they realize it or not. Aesthetics inform experience, which in turn leads to recommendations and revisits. Partnering with a vendor that produces high-quality outdoor structures can be the difference of a substantial, architecturally beautiful space, or one that's simply unremarkable.  
At Walpole Outdoors, we only use superior materials, such as the finest natural woods like Northern White and Red Western Cedar. We are also the nation's most experienced fabricator of cellular PVC (AZEK), and use the highest standards of aesthetics, symmetry, and balance, resulting in stunning structures that stand the test of time. With everything from easy-to-install pergola kits to custom CAD designs, we support your vision from design to production so your pergola can go up without a hitch. If you're ready to enhance your outdoor space, we can develop a solution that matches your needs. Discover the difference quality craftsmanship makes. Discover Walpole Outdoor today.