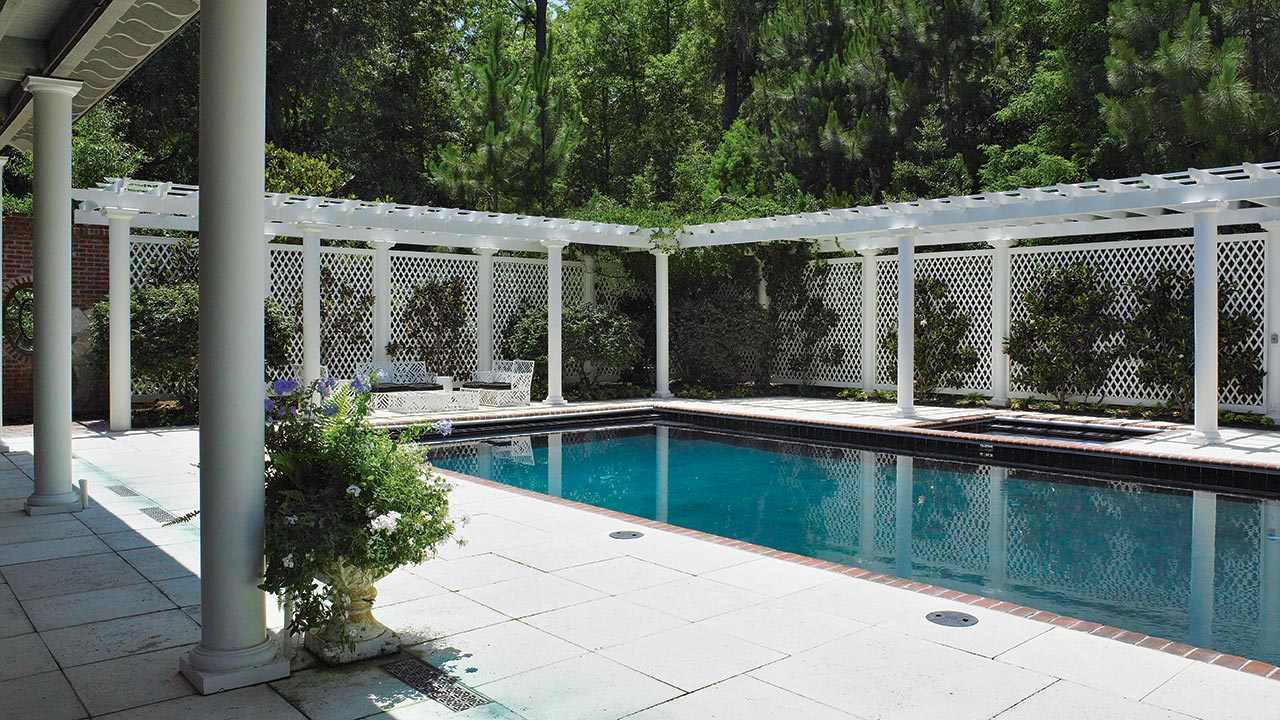 Pergola Possibilities: More Than Throwing Shade
---
Popular for both their form and function, pergolas are a versatile outdoor architectural element. Scroll through any outdoor design magazine and you'll see them peppered throughout dreamy backyard living spaces, providing shade, comfort, and style to many a lucky homeowner. But pergolas, like the AZEK vinyl pergolas created by Walpole, are good for so much more than simply shade. Read on to learn how AZEK pergolas can bring a whole new definition to your outdoor space. 
A custom vinyl pergola like this one defines the home's entryway with style and architectural interest, but entrance pergolas don't need to be grand in scale. Even a modest front porch gets a big aesthetic boost from the addition of a pergola. Whether you go big or small, a front-entry pergola is a simple way to add flair to your home's facade. Add in a vinyl fence and an AZEK gate and you can substantially increase your home's curb appeal without major renovations.
The most popular use for pergolas is over dining, seating, or other gathering spaces in your backyard. But a pathway pergola creates an outdoor passageway, perfect for thematically connecting one area of your yard to another. A pathway pergola is equally at home as a side entrance to a backyard, a connection from your main home to a guest home or pool house, or a stylish entry that leads from your driveway to your front door. For secure backyard entries, it's possible to pair a pergola with an AZEK gate, creating a unique and beautiful garden entry that keeps pets and children in and uninvited guests out. 
First and foremost, this custom vinyl pergola and board fence provide shade and privacy, a desirable commodity in any city. Moreover, painted in a soft, Sherwin-Williams VinylSafe brown, it frames and complements the urban skyline, adding definition and separate zones to an otherwise blank rooftop canvas. In settings like this one, AZEK vinyl pergolas are a smart choice. Rooftop patios inherently have increased exposure to the elements and air pollutants. AZEK pergolas are made of high-quality, low-maintenance PVC, which looks and feels like wood but lasts years longer. They're also far easier to clean than wood pergolas, and don't rot, chip, warp, or crack—which means fewer maintenance workers traipsing through the apartment for repairs.
A well-placed pergola can draw people to use other areas surrounding the pool, rather than just remain on one side, which not only creates more usable space but adds visual interest and definition. From a user standpoint, this placement invites you to step further from your home (and the distractions and chores that await within it) and into a true, private oasis—even if only for a short while. AZEK pergolas like the one above are a good choice here, too. Since the vinyl lattice backing encourages climbing plants, AZEK will better withstand not only the elements and pool water, but the wear and tear associated with vine growth. A pergola and lattice combination like this one can also perform double duty as a boundary to your pool; add in an AZEK gate and you're ready for a safe summer. 
A custom vinyl pergola is a perfect addition to an outdoor spa, creating a secluded and intimate space perfect for relaxing day or night. The stunning ones above are custom-crafted AZEK vinyl pergolas, stepped and joined to create a sense of majesty, but you don't need to think this big when it comes to your own spa design (unless, of course, you want to). Even a smaller-scale pergola offers the style, function, and intimacy that will bring your spa to the next level of luxury.
Gardeners of all levels will swoon over a dedicated spot for wisteria, clematis, honeysuckle, and other climbing flowers and vines. The custom, wide-set vinyl lattice in the one above creates extra room for growth while still letting ample light in, and the pergola defines a dedicated space for a planted garden bed beneath it. 
It should come as no surprise that the designers at Walpole love pergolas, and with so many options, it's easy to see why. Most importantly, a well-designed and installed pergola extends your living space and increases the amount of time you spend outside. When you add a canopy or retractable shade, your space becomes all the more inviting. If you're considering adding an entrance, poolside, garden, or pathway pergola to your home, please give us a call for a free consultation. At Walpole Outdoors, we want you to love your landscape.